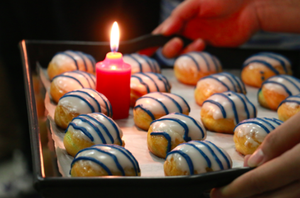 Alliance Francaise Celebrated 15th Anniversary
Author:Zijun Ning
On November 15th, Alliance Francaise held a grand celebrationfor its 15th anniversary. Executive President of Wuhan University, Feng Youmei, Councilor on Cultural Affairs of the French Embassy in China, Liu Wenze, and French General Consul in Wuhan, Ma Tianning gave their congratulation speeches on the ceremony. General Representative of Alliance Francaise in China, Luo Disai and Wu Hongmiao, Professor of Wuhan University presented. French Headmaster of Alliance Francaise in Wuhan, Miss Clerot (Ke Rong) hosted this grand gathering.
Alliance Francaise (heretofore referred to as Af) is a non-academic higher education school founded by Wuhan University and French Af in 2000. With the support of Wuhan University, French Embassy and Consulate in China, and Foundations for cultural exchanges, Af in Wuhan has been growing rapidly, now becoming the 3rd largest French cultural center in China, and will continue to be the solid bridge connecting China and France in the long run. The aims of Af in Wuhan include language training, dissemination of French culture as well as promoting communication between the two countries.
At 3'o clock in the Afternoon, the anniversary celebration began. Miss Cornet delivered an opening speech, expressing her welcome to guests present and condolences to all those who died or injured in the Paris terrorist attack. As she said, the France nation is still standing, and it's nothing but catastrophe that makes the French spirit-tolerance, liberty and unity-more meaningful. Then, Executive President of WHU, Feng Youmei congratulated Af for its 15th birthday. She recalled thatAf was founded in the year four colleges were merged into present Wuhan University, and under the supportive policies of WHU, two schools kept abreast of each other's development these years. By assisting Af in Wuhan, WHU is devoted to creating an environment in which all French people feel like home. The University will back Af with full faith as always in the future. Feng Youmei strongly condemned the terrorism and mourned the victims involved in the Paris terrorist attack. She reiterated that the sole access to world peace is to communicate, forgive and concern.
Then Mr. Ma Tianning proposed all guests to pay silent tribute to the victims of the Paris attack. He affirmed that it was not the French art, literature, champagne or perfume that terrorists set fire to, but the faith held by French people, which was built on the basis of general principles that all men are created equal. Meanwhile, this faith also constitutes the core of Af. He was convinced that Af would carry on performing the duty to promote French culture, and earn a wider prospect for all French lovers.
After the speeches, pianist Fabien Klein played several classic pieces that kept lingering in the audience's mind.
A group of representatives shared their memories when they were at Af. Amongst them were college students, lecturers or industry leaders who once learned French here. They all held profound affection to Af, appreciating the precious experience they had. Professor Du Qinggang, Dean of School of Foreign Languages and Literature, sent a congratulation video as well.
French magician, Guillaume Vallée brought the audience a fantastic feast for the eye. Floating candles, never-reducing water, suddenly disappearing spitball and colorful balloons captivated the guests. The wonderful magic tricks sparked applaud from time to time.
Miss Clerot then summoned to the stage special guests who were highly acclaimed for deepening the friendship between Wuhan and France. They also received gifts prepared by AF. And later, it was time for a Moroccan band, Thunder Souls. The whole crowd was lit by their dynamic music, and some of the audience even swayed to the music and clapped to the move.
Then came the final part of the ceremony. In flickering candlelight, volunteers of Af in Wuhan queued into the scene, each of whom holding a plate of elaborately hand-made cakes. As Miss Clerot introduced, these were dessert specially made for Af's 15th anniversary celebration, and exquisite champagne was waiting for all guests in the lounge. At last, all guests stood up and applauded for such a wonderful celebration hosted by Af in Wuhan.