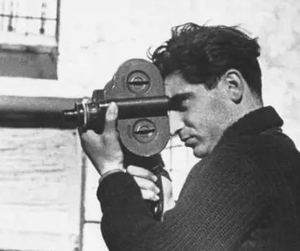 In 1938, Robert Capa came to Wuhan and used his camera to document the city under the war with Japan.
Robert Capa (born Endre Friedmann; October 22, 1913 – May 25, 1954) was a Hungarian war photographer, photo journalist and also the companion and professional partner of photographer Gerda Taró. He covered five wars: the Spanish Civil War, the Second Sino-Japanese War, World War II across Europe, the 1948 Arab-Israeli War, and the First Indochina War. He documented the course of World War II in London, North Africa, Italy, the Battle of Normandy on Omaha Beach and the liberation of Paris.
In 1947, Capa co-founded Magnum Photos in Paris with David "Chim" Seymour, Henri Cartier-Bresson, George Rodger and William Vandivert. The organization was the first cooperative agency for worldwide freelance photographers.
In 1936, Capa became known across the globe for the "Falling Soldier" photo long thought to have been taken in Cerro Muriano on the Cordoba Front. It was thought to be of a Workers' Party of Marxist Unification (POUM) militiaman who had just been shot and was falling to his death, and was long considered an iconic image of the war. The authenticity of the photograph is today in doubt, with scholars questioning its location, the identity of its subject, and the discovery of staged photographs taken at the same time and place.
Although a few years earlier he had said he was finished with war, Capa accepted and accompanied a French regiment with two Time-Life journalists, John Mecklin and Jim Lucas. On May 25, 1954 at 2:55 p.m., the regiment was passing through a dangerous area under fire when Capa decided to leave his Jeep and go up the road to photograph the advance. About five minutes later, Mecklin and Lucas heard an explosion; Capa had stepped on a landmine. When they arrived on the scene, he was alive but his left leg had been blown to pieces, and he had a serious wound in his chest. Mecklin called for a medic and Capa was taken to a small field hospital, where he was pronounced dead on arrival.
Source : Wuhan Time